Who we are:
The kennelname was approved by the FCI in 2001.
It all started with a small breeding of Smooth-haired standard and miniature dachshund.
In 2009 the first Halden Hound arrived the kennel.
The kennel was awarded with the Norwegian Dachshundclubs fieldtrackingprize in bronze in 2015.
About the people:
Raymond Bråten has a degree in forrest- and wilderness managment. Currently working in the correctional service as principal officer.
Became interested in hunting and wildlife managment as a youngster. Is a fieldtrial judge.
Synne Berg Bråten is Cand. Scient from the Norwegian University of Life Sciences, she and has also worked with ethology at the same place.
She is interested in training obidience, agility and tracking with the dogs.
Our two boys, Øyvind (2003) and Olav (2006) is also training the dogs.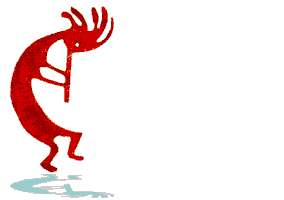 What is Kokopelli?
Known as a fertility god, prankster, healer and story teller, Kokopelli has been a source of wonder throughout the country for centuries. Kokopelli embodies the true American Southwest, and dates back over 3,000 years ago, when the first petroglyhs were carved. Although his true origins are unknown, this traveling, flute-playing Casanova is a sacred figure to many Southwestern Native Americans. Carvings of his hunch-backed flute-playing figure has been found painted and carved into rock walls and boulders throughout the Southwest.
There are many myths of the famous Kokopelli. One of which is that he traveled from village to village bringing the changing of winter to spring; melting the snow and bringing about rain for a successful harvest. It is also said that the hunch on his back depicted the sacks of seeds and songs he carried. Legend also has it that the flute playing also symbolized the transition of winter to spring. Kokopelli's flute is said to be heard in the spring's breeze, while bringing warmth. It is also said that he was the source of human conception. Legend has it, everyone in the village would sing and dance throughout the night when they heard Kokopelli play his flute. The next morning, every maiden in the village would be with child.
Whatever the true meaning of Kokopelli is, he has been spreading joy to those around him.